The Importance of Modern Restoration Work in Historical Buildings
Keywords:
Restoration, Techniques used in restoration, Modern restoration applications
Abstract
In historical buildings, factors such as abrasion, destruction, aging and extinction occur in the texture of the material due to geographical conditions, climate and environmental effects. Due to the need to reuse the buildings, it brought restoration work with it. In addition to the use of traditional materials in restoration works, the use of modern materials together with technology adds function to the buildings. The transfer of the identity of historical and cultural structures to the present day has an important place in terms of restoration. In modern restoration works, the indoor and outdoor spaces should be evaluated as a whole. The material used in the restoration must be durable in terms of durability. It is seen that many buildings that have undergone restoration today are built with aesthetic concerns. The most important thing is to ensure that the technique applied in today's conditions will reach future generations with its strength and material texture without much damage. Sometimes, it is seen that the buildings are designed and reused by adding different spaces in functional terms.
Techniques to be used in modern restoration applications are determined and acted accordingly. In terms of strengthening the structure and preserving its durability, among the techniques applied in restoration, information about the method of cleaning with water, cleaning method with chemical substances, methods applied by heat method, methods applied using mechanical methods, techniques applied using technological machinery and tools are given.
References
Erim, M. (2007) Türkiyedeki Restorasyon Çalışmaları ve Restorasyon İşletmelerinin İncelenmesi. Yüksek Lisans Tezi, Sosyal Bilimler Enstitüsü İşletme Yönetimi Ana Bilim Dalı, Mersin, syf: 25.
Kuban, D. (1969) "Modern Restorasyon İlkeleri Üzerine Yorumlar", Vakıflar dergisi sayı 8, syf: 350.
Seçer Kariptaş, F. ve Kariptaş, F. (2020) "Tarihi Yapıların Yeniden İşlevlendirilmesinde Çelik Strüktürlerin Kullanımı: Kasımpaşa Tuz Ambarı Örneği", Haliç Üniversitesi Fen Bilimleri Dergisi, syf:75)
https://tr.wikipedia.org/wiki/Restorasyon_(onar%C4%B1m)
file:///C:/Users/AYSU/Downloads/Ders%208%20Tarihi%20%C3%87evre%20ve%20Yap%C4%B1lara%20M%C3%BCdahale%20Y%C3%B6ntemleri.pdf
https://www.mevzuat.gov.tr/mevzuat?MevzuatNo=18635&MevzuatTur=7&MevzuatTertip=5
https://core.ac.uk/download/pdf/50612715.pdf
http://www.imo.org.tr/resimler/ekutuphane/pdf/17519_04_49.pdf
http://www.icomos.org.tr/Dosyalar/ICOMOSTR_tr0243603001536681730.pdf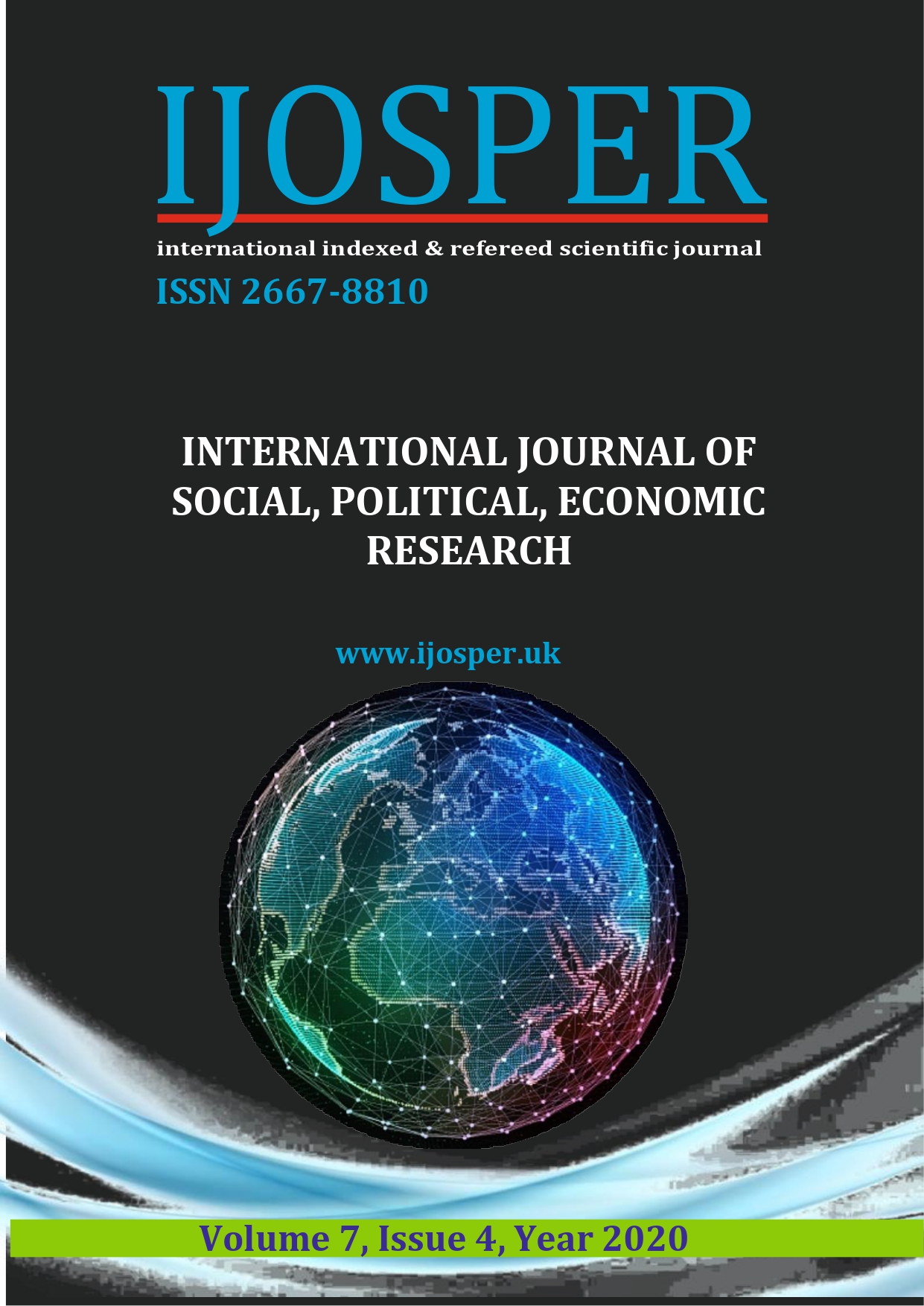 How to Cite
SARI ÇETİN, A. (2020). The Importance of Modern Restoration Work in Historical Buildings. International Journal of Social, Political and Economic Research, 7(4), 814-818. https://doi.org/10.46291/IJOSPERvol7iss4pp814-818
Copyright (c) 2020 International Journal of Social, Political and Economic Research
This work is licensed under a Creative Commons Attribution-NonCommercial-NoDerivatives 4.0 International License.