Perception of Climate Variability along the Slopes of Mount Bamboutos, West Cameroon
Keywords:
Perception, climatic variability, adaptation, Mount Bamboutos, West Cameroon
Abstract
This study analyzes the impact of current climate variability on the southern slope of the Mount Bamboutos. Our objective is to contribute to the knowledge in the domain of climate variability in tropical high-altitude environments based on peasant perceptions. The guiding premise is that, in the face of current climate variability, the climate of tropical high-altitude regions is constantly changing. Based on climate data and surveys of 100 peasant farmers; this analysis shows that rainfall is very irregular and interrupted with frequent dry spells. Farmers have a particular way of reading or interpreting the climate or the weather. Their perceptions of climate variability anchors on the position and color of the clouds, the intensity of the sun, the direction and / or the speed of the wind. Climatic trends from 1980 to 2009 and variations in the cumulative number of rainy days and rainfall averages demonstrated great decadal anomalies. The comparative analysis of climatological data between these decades (1980-1989; 1990-1999 and 2000-2009), show that precipitation has more or less decreased along the southern slopes of Mount Bamboutos. In this same time interval, there has been an overall increased in temperatures. The late onset and early end of rainfall have had remarkable impacts on the agricultural calendar. Adaptation options need to be improved upon and indigenous knowledge integrated into adaptation policy.
References
BRING.C., 2005 « Analyse des séquences sèches significatives au Nord Cameroun : intensité fréquence et distribution spatiale. », colloque de géographie, université de Dschang.
BRING C., Organisation des interruptions pluvieuses décadaires dans les plaines du Nord-Cameroun in L'Afrique Centrale et le changement climatique, Première partie, VOLUME 2, colloque 2007, université de Yaoundé 1
CARBONNEL J.P. (1983). Evolution climatique récente en Haute-Volta, un paramètre pluviométrique peu utilisé : la pluie journalière moyenne annuelle. Notes et documents voltaïques.
DAUODA H., 2007, Adaptation de l'agriculture aux changements climatiques : Cas du département de Téra au Niger, Mémoire de Master, Université Senghor.
DERBETINI A. et al, Variations interannuelles du cycle diurne de la convection au-dessus du Cameroun Université de Yaoundé 1, Cameroun.
DIATTA Idrissa, Juin 2008, Impact des fluctuations pluviométriques sur la production agricole dans la région de Thionck- Essyl en Basse Casamance, Université Cheikh Anta Diop de Dakar
GIEC, 2001, Bilan 2001 des changements climatiques : Conséquences, adaptation et vulnérabilité, Cambridge University Press, Cambridge.
GIEC, 2007, Bilan 2007 des changements climatiques : Rapport de synthèse, GIEC, Genève.
OGOUWALE E. et al, 2003, Mise en évidence d'un changement dans la variabilité pluviométrique au Bénin. In Publications de l'AIC, 205-208.
OLIVRY J. C., 1983 : Le point en 1982 sur l'évolution de la sécheresse en Sénégambie et aux îles du Cap-Vert. Examen de quelques séries de longue durée (débits et précipitations). Cah. ORSTOM, sér. Hydrol., vol. XX, n°1, pp 47-69.
SIVAKUMAN, 1991, cité par Laohote BAOHOUTOU in l'Afrique centrale, le Cameroun et les changements globaux, colloque 2007, université de Yaoundé 1
SUCHEL J. B, 1972. La répartition des pluies et les régimes pluviométriques du Cameroun, pages 171-182, thèse de doctorat 3e cycle.
SUCHEL J.B, 1988. Les climats du Cameroun. Thèse de Doctorat d'Etat, Université de Saint Etienne.
TEKOUDJOU H, 2004, Etude de la variabilité pluviométrique sur le flanc Sud des monts Bambouto. Mémoire DEA, Université de Yaoundé I, Cameroun, 47 p
TCHIADEU G., 1999, Calendriers des pluies et bilans hydriques au Cameroun (1951 – 1993), Thèse de doctorat en géographie, Université de Bourgogne, France, 127p
TSALEFAC M, 1999, Variabilité climatique, crise économique et dynamique des milieux agraires sur les hautes terres du Cameroun, thèse de Doctorat d'Etat es lettres et sciences humaines, spécialité, option climatologie, Université de Yaoundé, 322 p
TSALEFAC M, NGOUFO (R), NKWAMBI (W), TATSANGUE, B LENGUE FOBISSIE, 2003, Fréquences et quantités des précipitations journalières sur le territoire camerounais in Publication de l'Association Internationale de Climatologie, volume 15, pages 359-367.
WAKPONOU A., 2004 : Dynamique géomorphologique des basses terres soudano-sahéliennes dans l'Extrême-Nord-Cameroun. Thèse de Doctorat NR, Laboratoire de Géographie Zonale pour le Développement, Univ. de Reims Champagne-Ardenne 229 p.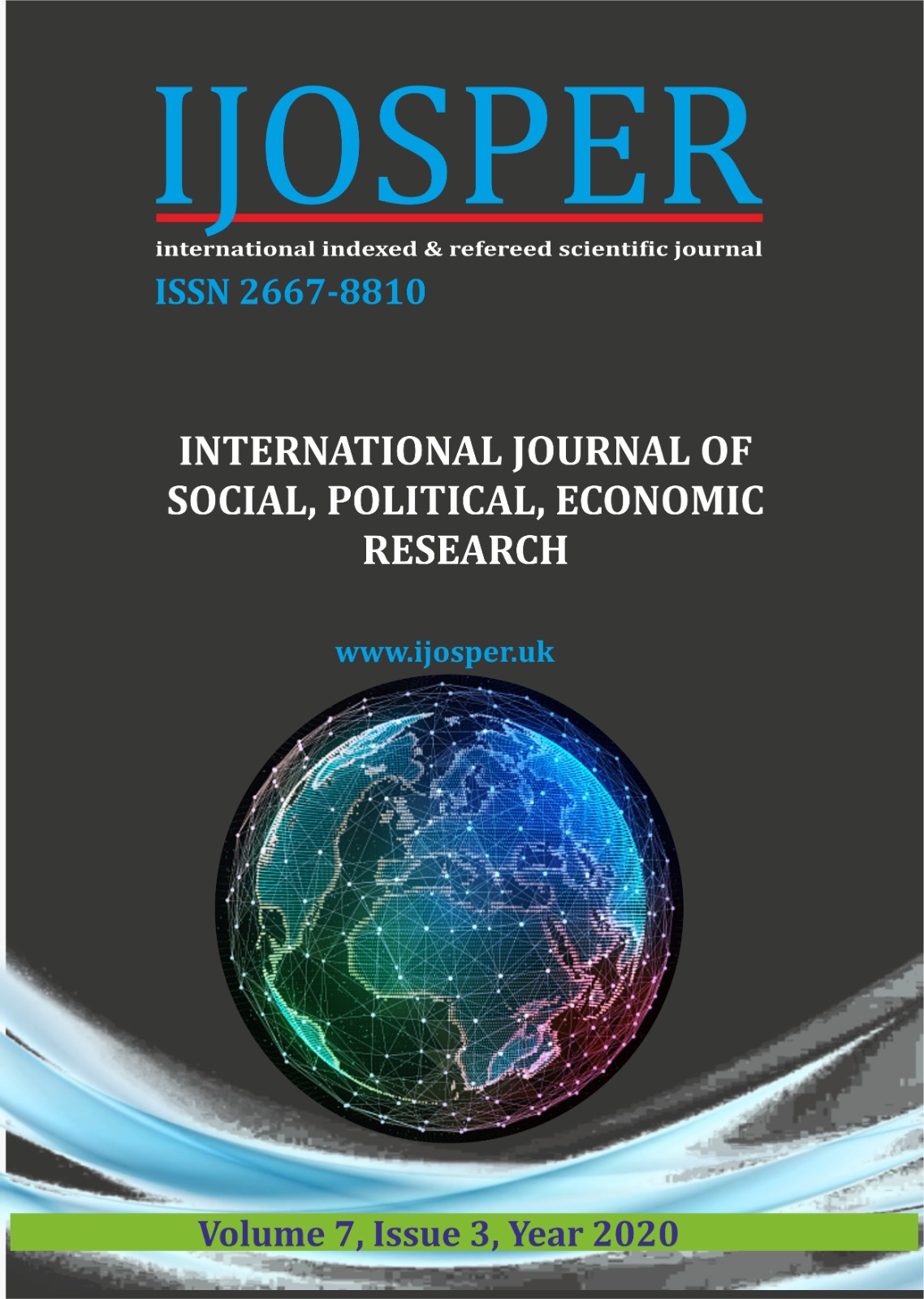 How to Cite
Josiane, F. K., TSALEFAC, M., & KONGNSO, M. E. (2020). Perception of Climate Variability along the Slopes of Mount Bamboutos, West Cameroon. International Journal of Social, Political and Economic Research, 7(3), 687-707. https://doi.org/10.46291/IJOSPERvol7iss3pp687-707
Copyright (c) 2020 International Journal of Social, Political and Economic Research
This work is licensed under a Creative Commons Attribution-NonCommercial-NoDerivatives 4.0 International License.