Gender Equality Problems in Soviet Reality
Keywords:
The Soviet Union, gender, problem, equality, women, paternalistic politics.
Abstract
The Soviet Union was a totalitarian and strictly centralized state, which from the day of its foundation was intended to create a new human. The idea of formal equality written in its constitution and legislation was not a guarantee of real equality in the Soviet Union. The Communist Party deeply believed in the rise of its own tolerant policies, although the existing facts became a barometer of its failure. Despite the established way of life (education, work, etc.), women were neither represented in the ruling circle nor fully participated in the development and implementation of state policy. Thus, the Soviet Union with its paternalistic politics sought both to weaken the influence of men on women by improving the condition of women and to saturate deeply women's lives with Soviet pathos and communist beliefs.
References
Attwood, L. (1999). Creating the New Soviet Woman. London: Macmillan Press.
Belel, A. (2009). Woman under Socialism. New York.
Friedrich, E. (2010). The Origin of the Family, Private Property and the State. London: Penguin Group.
Goldman , W. (1993). Women, the State and Revolution. Cambridge University Press.
Heitlinger, A. (1979). Women and State Socialism. London: Macmillan Press.
Hutton, M. (2019). Resilient Russian Women in the 1920s and 1930s. First edition, p.36.
Kiknadze, T. (2003). The gender aspectof the socio-political transformation of modern society. Tbilisi.
Lapidus, G. (1978). Women in Soviet Society Equality, Development, and Social Change. Berkeley: University of California Press.
Lee, S. (1999). Stalin and the Soviet Union. London: Routledge.
Lenin, V. (2010). The Emancipation of Women. Lucknow: Rahul Foundation.
Lomia , E. (2017a). The Issues of Cultural Diversity in Communication. Black Sea.
Lomia , E. (2017b). The United States-Russia Relations Before and After Russia's Intervention in Georgia and Ukraine.
Lomia , E. (2020). The Evaluation of Russia's foreign policy towards Georgia following the 'Rose Revolution'. ournal of Liberty and International affairs, 6(1), 112-128.
Manvelishvili , N. (2019 ). Changes in the status of women during Stalin's rule in Georgia and the Soviet Union. Tbilisi .
Pomerantsev, P. (2017). Nothing is true and everything is possible: the surreal heart of the new Russia.
Shulman, E. (2008). Stalinism on the Frontier of Empire. New York: Cambridge University Press.
Trotsky, l. (1970). Women and the Family . New York: Pathfinder Press.
Wood, E. (1997). Gender Politics in Revolutionary Russia . Bloomington: Indiana University Press.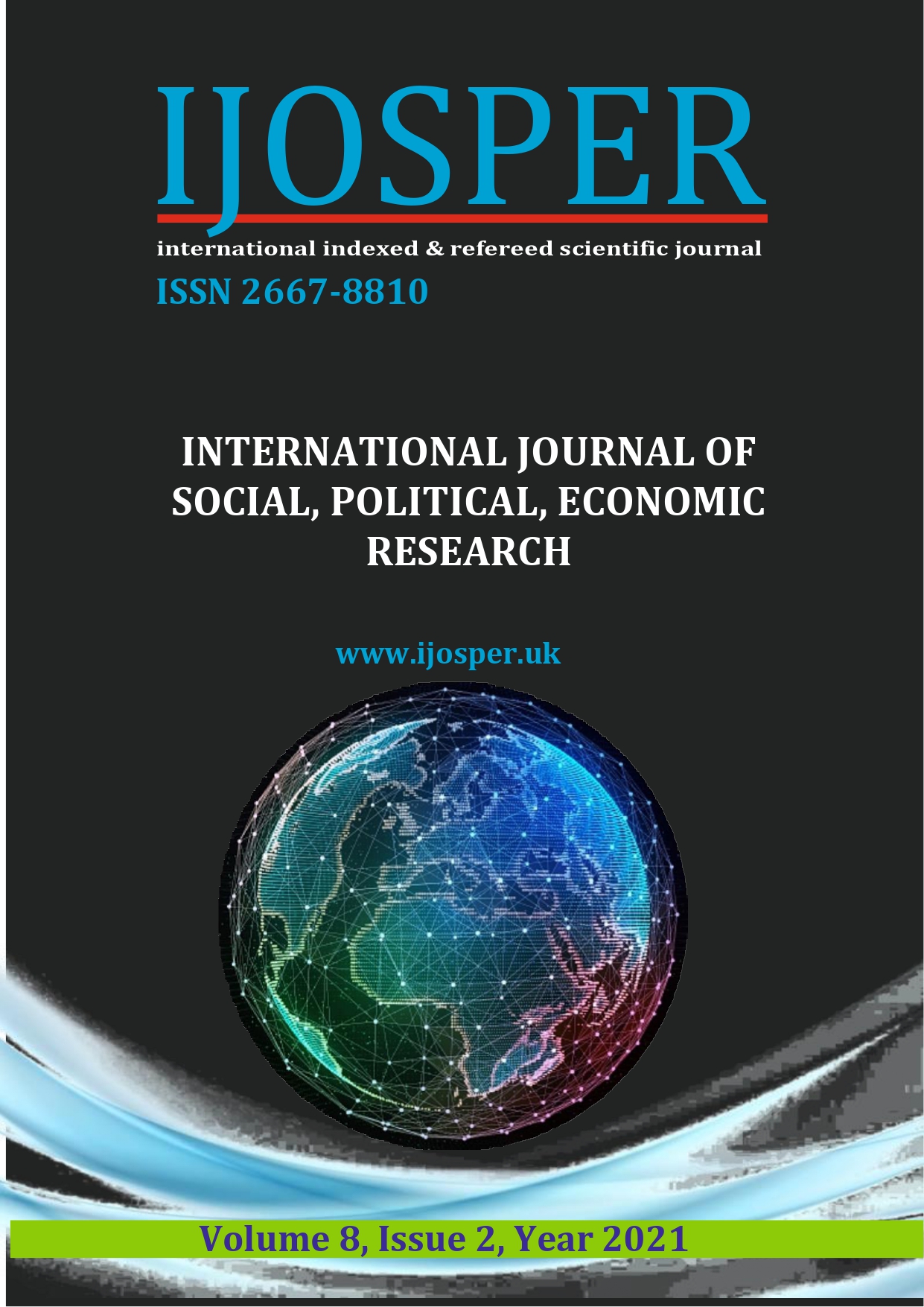 How to Cite
Jojishvili, K. (2021). Gender Equality Problems in Soviet Reality. International Journal of Social, Political and Economic Research, 8(2), 303-309. https://doi.org/10.46291/IJOSPERvol8iss2pp303-309
Copyright (c) 2021 International Journal of Social, Political and Economic Research
This work is licensed under a Creative Commons Attribution-NonCommercial-NoDerivatives 4.0 International License.