POLICY OPTIONS ON SUSTAINABLE RESOURCE UTILIZATION AND FOOD SECURITY IN HAOR AREAS OF BANGLADESH: A THEORETICAL APPROACH
Keywords:
Policy Options, Sustainable Resource Utilization, Food Security, Haor Area, Bangladesh.
Abstract
This study consists of two theoretical approaches on the policy options regarding the link between entrepreneurship, resource utilization and food security in the haor-basin areas. The first one deals with a Cobb-Douglas technology to investigate the relationship between entrepreneurship and food security. In particular, we suggest that, while more entrepreneurship could mean more productivity in the production sectors, productivity growth in turn could affect the individual arbitrage between different haor's occupations (including entrepreneurship) and expected payoffs. The second question is concerned with the types of haor resource management to which the individuals or local communities direct their talents. We distinguish between community management and government management on the efficient utilization of haor resources. The impact on household food security and resource utilization can be assessed in static and dynamic frameworks.
References
Alam, MK, (2004), Wave attack in Haor areas of Bangladesh and cement concrete blocks as structural revetment material; Progress in Structural Engineering, Mechanics and Computation: Proceedings (ed. Alphose Zingoni); page 325.
Acs, A. J. & Varga, A. (2005), æAgglomeration, Entrepreneurship and Technological Change." Small Business Economics.
Bangladesh: Haor Infrastructure and Livelihood Improvement Project, Project Design Report - Main Report, (2011), VOLUME I.
Bennett et al. (1995), Interpretive Description Of The Region's Wetlands, Wetland Resources Specialist Study, Northeast Regional Water Management Plan, Bangladesh Flood Action Plan 6, Bangladesh Water Development Board.
Bevanger, K.; Datta, A.; Eid, A.; Shirin, M., (2001), Tanguar Haor wetland biodiversity conservation project: an appraisal, NINA•NIKU Project Report 16: 1 37.
Bio-ecological Zones of Bangladesh, (2002), International Union for Conservation of Nature and Natural Resources, Bangladesh Country Office; page 31; The World Conservation Union (IUCN); ISBN 984-31-1090-0
Communities and forest management in South Asia; page 32; The World Conservation Union (IUCN); ISBN 2-8317-0554-1
Gawler, M. (2000) What are best practices? Lessons in participatory management of inland and coastal wetlands. In: Gawler, M. (ed.) Strategies for wise use of wetlands: Best practices in participatory management. Proceedings of Workshop 1 of the 2nd International Conference on Wetlands and Development. Wetlands International, Wageningen, The Netherlands.
Haor Master Plan (2012), Bangladesh Haor and Wetland Development Board (BHWDB), Ministry of Water Resources.
Kazal et. al (2010), Food Security Strategies of The People Living in Haor Areas: Status and Prospects, National Food Policy Capacity Strengthening Programme , Final Report PR #3/08.
Kreuger NF., (2003), The cognitive psychology of entrepreneurship. In: Acs ZJ, Audretsch DB, editors. Handbook of Entrepreneurship Research. Kluwer Academic Publishers, p. 105-140.
Project Design Report - Main Report (2011), Bangladesh: Haor Infrastructure and Livelihood Improvement Project (HILIP), Report No.: 2263-BD
Sarma, P. K. (2010) 2010 ISSN 1810-3030, Scenario of haor vulnerabilities and other obstacles for sustainable livelihood development in Nikli upazila, Journal of Bangladesh Agricultural University, vol. 8(2), pp. 283–290.
SCHUMPETER, J.A. (1911), Theorie der wirtschaftlichen Entwicklung. Eine Untersuchung über Unternehmergewinn, Kapital, Kredit, Zins und den Konjunkturzyklus ; translated by R.OPIE, The Theory of Economic Development. An Inquiry into Profits, Capital, Credit, Interest, and the Business Cycle, Oxford: Oxford University Press (1963 (1934))
Teng, Paul (2011), Ensuring Food Security: Opportunities for Entrepreneurship and Investment, Food Security Conference, Manila, Philippines.
Yoshitani, et al (2007) Factor analysis of water-related disasters in Bangladesh, International Centre for Water Hazard and Risk Management (ICHARM); Public Works Research Institute (PWRI), Technical Note of PWRI No.4068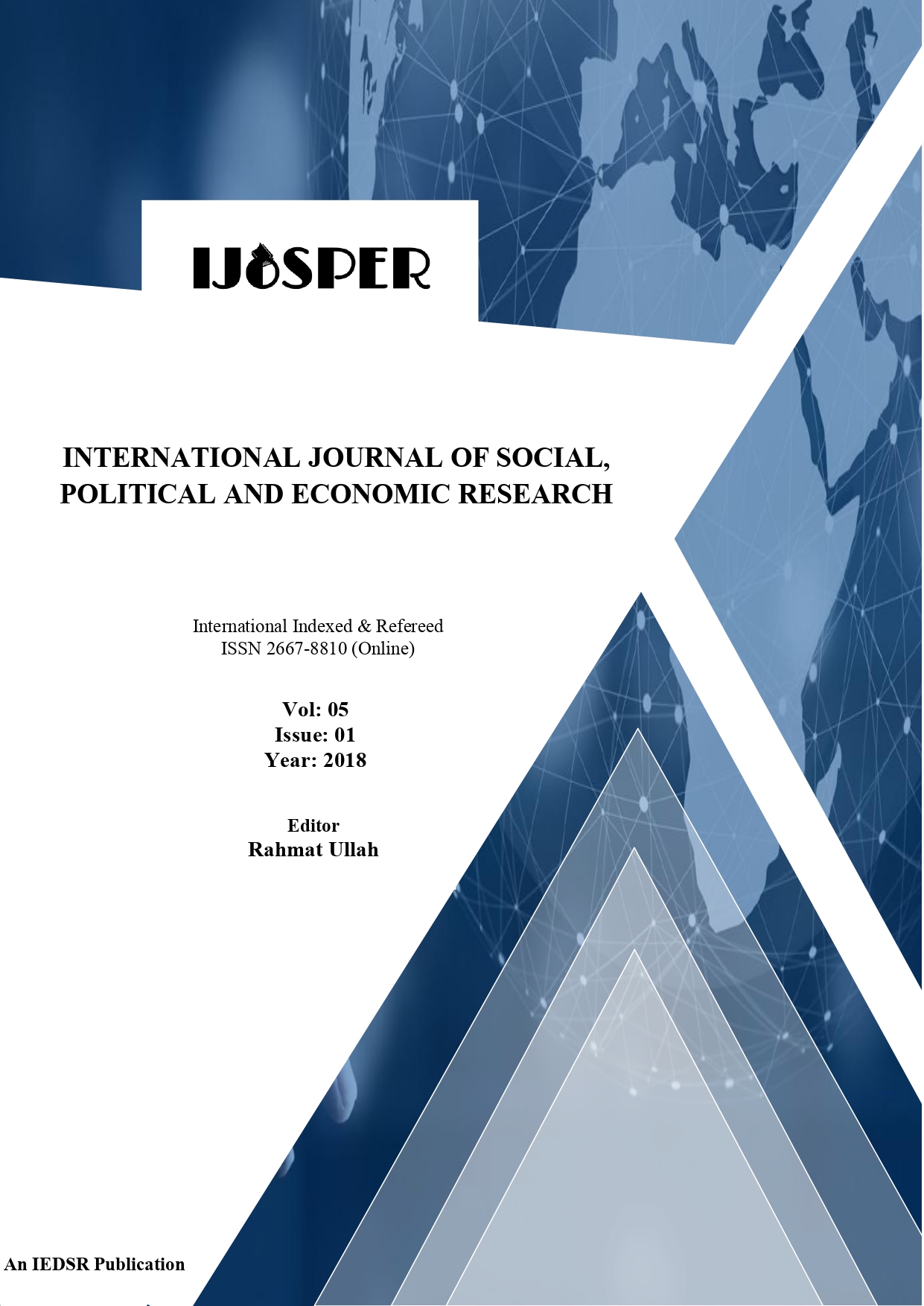 How to Cite
MOHAMMAD MASUD ALAM, & MD. KABIR HOSSAIN. (2018). POLICY OPTIONS ON SUSTAINABLE RESOURCE UTILIZATION AND FOOD SECURITY IN HAOR AREAS OF BANGLADESH: A THEORETICAL APPROACH. International Journal of Social, Political and Economic Research, 5(1), 11-28. https://doi.org/10.46291/IJOSPERvol5iss1pp11-28