FOUNDATION OF RELIGIOUS LIBERALISM IN BANGLADESH: CONTRIBUTION OF BANGABANDHU SHEIKH MUJIBUR RAHMAN AND AWAMI LEAGUE
Keywords:
Sheikh Mujibur Rahman, Awami League, Bengal Civilization, Peaceful Coexistence, Religious Pluralism & Tolerance, Different Cultures, Social Development.
Abstract
The Father of the Nation Bangabandu[1] Sheikh Mujibur Rahman (1920-1975) is the great architect and the immortal morphologist of a new map of independent Bangladesh. During his rule, he took various steps for the welfare of the country and the nation. He took realistic and effective measures to propagate Islam because of the economic, social and physical infrastructural measures in it, keeping in mind the religious sentiments and values of the people of the Muslim majority in Bangladesh.  The outstanding contribution he has made to spread Islam, the promotion and establishment of Islamic values ​​during his reign has become a rare example in the contemporary Muslim world. He was always trying to make Bangladesh a country of peace for all people of all religions. He is not only a great architect of an independent sovereign state but also, he is the architect of spreading Islam under government-sponsored Bangladesh. Especially by establishing the Islamic Foundation Bangladesh, he provided a solid institutional basis for the spread of Islam. He gave greater importance to all citizens who have equal rights regardless of religion and have been an assurance of all religions, which serves as a protector against intolerance when drafting the constitution of Bangladesh. However, the research tries to highlight how Bangabandhu contributed to reducing the religious hatred and extremism, fanaticism, and fundamentalism and establishing peaceful co-existence of various cultures and religions among the people of Bangladesh. Therefore, the result of my study shows how the role of  Bangabandhu Sheikh Mujibur Rahman and his Awami league is establishing or has contributed in establishing status equality, love, promote religious cohesion, tolerance, and brotherhood among the masses and taught people to respect each other's religion, emotions, and practices in Bangladesh.
References
Rahman, A., & Rashid, A., (2019). Islami Adorsho o Mullobudh Protisthay Bongabandhu Sekh Mujibur Rahman, Dhaka: Citra Prokashoni.
Afzal, M, S., (2010). The Father of the Nation Bangabandhu Sheikh Mujibur Rahman in Preaching and Propagating Islam, Dhaka:Islamic Foundation Bangladesh
Hossain, S, S., (2014). Biplobi Neta Sheikh Mujib, Dhaka: Oıtijjo Publications.
Rahman,H., (2015). Poet Of Politics, Dhaka: Vasha Citro Publishing House
Alam, M., (2014). Vasha, Muktijoddo O Bangabandhu, Dhaka: Agami Publication
Mannan, A., (2015). Bangabandhu O Bangladeshke Niye Mittha O Mittachar, Dhaka: Shaheen Publications
Hasina, S., (2015). Sheikh Mujib Amar Pita, Dhaka: Agami Publication
Farooq, C., (2005). Sworone Bangabandhu, Dhaka: Maula Brothers Publishing House
Rahman,M, S., (2017). Osomapto Attojiboni, Dhaka: The University Press Limited (UPL)
Karim, S, A., (2014). Sheikh Mujib Triumph And Tragedy, The University Press Limited (UPL), Dhaka: 2014
Firoja, T., (2013). Ciro Omlan Sheikh Mujib, Dhaka: Sobdhokosh Publishing House
Tipu,R,M., (2016). Bangabandhu O Bangladesh: Duiti Nam Ekti Itihas, Dhaka: Ganjuti Publishing House
Amir, H., (2013). Bangabandhu O Muktijoddho: Somkalin Sangbadider Dristite, Dhaka: Adorn Publication
Jehadul, H., (2016). Bangabandhu O Bangladesher Somsamyik Somaj O Rajniti Prosonge, Dhaka: Shravan Publications
Fazal, A., (2016). Sheikh Mujib: Take Jemon Dekhchi, Dhaka: Batighor Prkashoni
Akbar, S., (2013). Bangabandhu- Progga: Sotota: Daridro Bimochon, Dhaka: Jagriti Publication
Hussain, A, S., (1996.): Essay `Bangabandhu: Islam and Muslim Ummah, Monthly Agrapathic, Dhaka: Islamic Foundation Bangladesh
Hussain, A., (2001). Children Encyclopedia Vol-5, Publisher: Bangladesh Shishu Academy; Essay on Sheikh Mujibur Rahman
Souvenir published (1999) by Bangabandhu Gabeshona O Pathagar Parishad Satter Sandhanae Bangabandhu Sheikh Mujib, Dhaka: Jatiya Shok Dibash.
Dr. Shahadat Husain, S., (2009). Jatir Janak Bangabandhu Sheikh Mujibur Rahman. Dhaka: Islamic Foundation Bangladesh.
Mustafa, N., (2001). Biography of Bangabandhu for the Juvenile `Mohan Neta Bangabandhu, ` Dhaka: Islamic Foundation Bangladesh.
Dr. Rafiqul Islam, R., (1996). Essay " Sheikh Mujibur Rahman, Islamic Encyclopedia, Vol.24-1st part, Dhaka: Islamic Foundation Bangladesh.
Ali, A., (1997). Essay "Sheikh Mujibur Rahman. Brief Encyclopedia, Vol.2, Dhaka: Islamic Foundation Bangladesh.
S. M. Ali, (1973). After the Dark Night: Problems of Sheikh Mujibur Rahman, New Delhi,Thomson Press, Ltd.
S. N. Ahmad; B. Craig and M. Ali, (1985). From martial law to martial law: politics in the Punjab, 1919–1958. Boulder, Colorado: Westview Press. pp. 33.
Y. Bhatnagar, (1971). Mujib- The architect of Bangladesh, New Delhi, R.K. Printers.
A. Bloob, (2002). Transcript of Selective Genocide Telex, Department of State, United States.
B. Craig, (1997). Bangladesh: From a Nation to a State, West view Press
K. C. Kennedy, B. Craig, (2006). "Governance and Politics in South Asia". Retrieved 2018-12-29.
G. W. Chowdhury, (2006). Bangladesh:Why It Happened"Bengali nationalism". Retrieved 2019-01-07.
M. N. Kadira, (2004). Independence of Bangladesh in 266 days: history and documentary evidence. Dhaka: Mukto Publishers. pp. 440.
A. Mascarenhas, (1986). Bangladesh: A Legacy of Blood, London, Hodder and Stoughton.
B. Raman, (2006)). "Mujib and Islam"(PHP). Archived from the original on 2019-01-11.
S. Bishwas, (2005). Bangladesh liberation war, Mujibnagar government documents, 1971, pp.167, Mawla Brothers, Dhaka.
Farooq, O, H., (2019). Bangabandhu and Sheikh Hasina's contribution to the service of Islam, Dhaka: Daily Jugantor
Internet Sources
https://www.tdnbangla.com/news/international/sheikh-hasina-gave-land-worth-tk-43-crore-for-the-largest-temple-of-hindus/ (Retrieved 7 January 2019)
https://www.amadershomoy.com/bn/2018/04/29/529610.htm (Retrieved 8 January 2018)
http://islamicfoundation.portal.gov.bd/sites/default/files/files/islamicfoundation.portal.gov.bd/page/d4fb1e84_b238_4ed2_ac39_852965fe2e67/IF%20Barsiki%202017%20korepatra.pdf (Retrieved 8 January 2019)
https://www.bbc.com/bengali/news-42478535 (Retrieved 9 January 2019)
http://www.crwt.gov.bd/ (Retrieved 20 January 2019)
https://www.jugantor.com/todays-paper/features/islam-and-life/ (Retrieved 19 January 2019)
https://www.daily-sun.com/post/289002/2018/02/14/Buddhist-Religious-Welfare-Trust-Act-2018-bill-places-in-Jatiya-Sangsad (Retrieved 23 January 2019)
https://www.dhakatribune.com/bangladesh/2018/04/11/buddhist-religious-welfare-trust-bill-passed (Retrieved 22 January 2019)
https://swadeshkhabar.com/2018/12/31/%E0%A6%87%E0%A6%B8%E0%A6%B2%E0%A6%BE%E0%A6%AE%E0%A7%87%E0%A6%B0-%E0%A6%96%E0%A7%87%E0%A6%A6%E0%A6%AE%E0%A6%A4%E0%A7%87-%E0%A6%AA%E0%A7%8D%E0%A6%B0%E0%A6%A7%E0%A6%BE%E0%A6%A8%E0%A6%AE%E0%A6%A8%E0%A7%8D/ (Retrieved 23 January 2019)
"Buddhist Religious Welfare Trust-Ministry of Religious Affairs". brwt.gov.bd. (Retrieved 23 January 2019)
"Government to ensure dignity of people of all faiths, says Prime Minister Hasina". daily-sun.com. (Retrieved 27 January 2019)
"Buddhist Religious Welfare Trust Ordinance, 1983 (Ordinance No. LXIX of 1983)". bdlaws.minlaw.gov.bd. (Retrieved 28 January 2019)
"Christian welfare trust fund raised". bdnews24.com. (Retrieved 29 January 2019)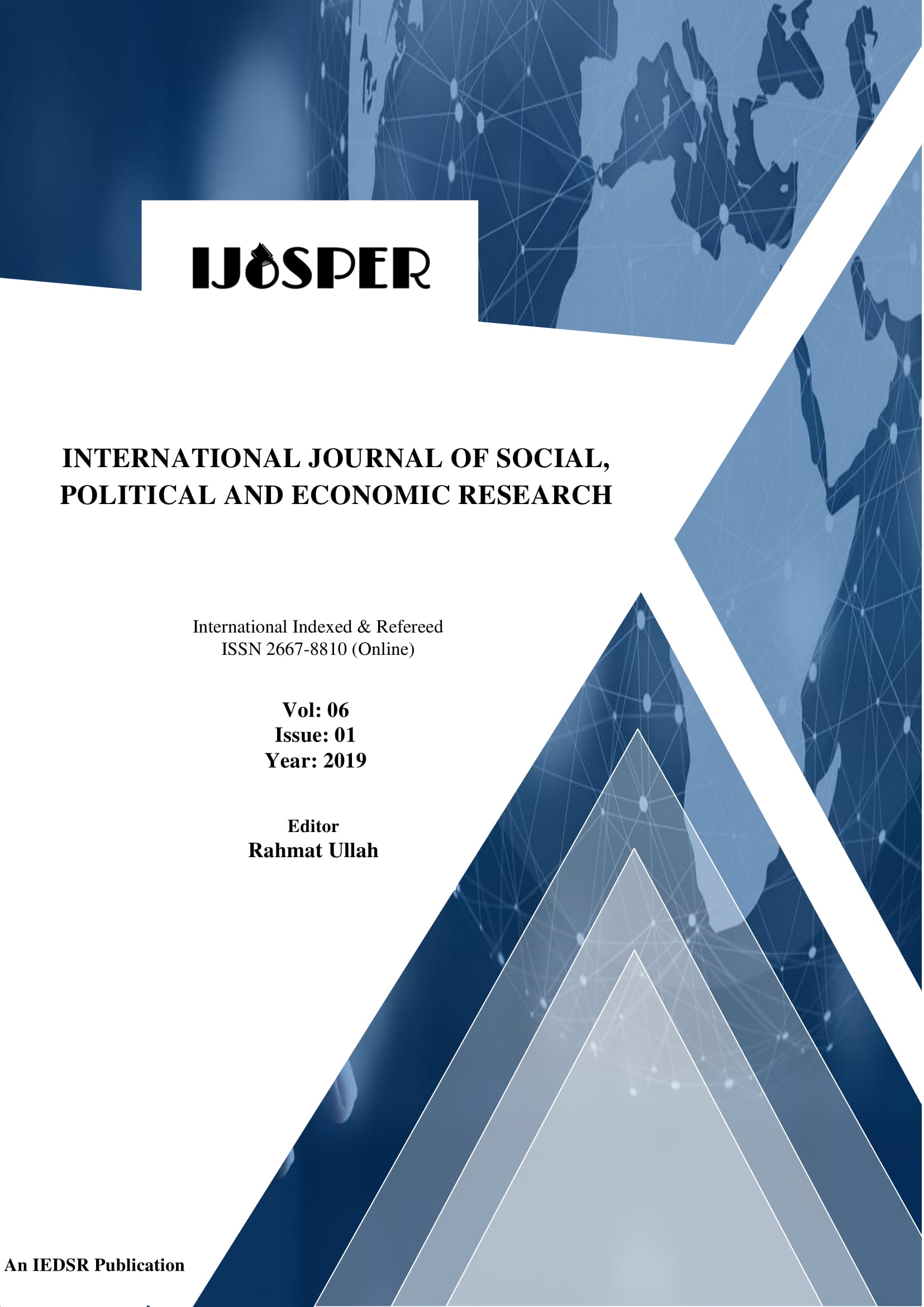 How to Cite
SAEYD RASHED HASAN CHOWDURY, & MUHAMMOD NASER NAFIS. (2019). FOUNDATION OF RELIGIOUS LIBERALISM IN BANGLADESH: CONTRIBUTION OF BANGABANDHU SHEIKH MUJIBUR RAHMAN AND AWAMI LEAGUE. International Journal of Social, Political and Economic Research, 6(1), 104-132. https://doi.org/10.46291/IJOSPERvol6iss1pp104-132