INDIA'S CONCERN AND POLICY OVER CHINA-BANGLADESH RELATIONS
Keywords:
India, Policy, Chına-Bangladesh Relatıons, Foreign Policy, Development.
Abstract
By the help and complete support of India, East Pakistan became Bangladesh 1971. The birth history of Bangladesh is very much connected with India. There were so many treaties between this two neighbouring nation. We may say that good relation at the maximum stage. Since 1971, India was the number one trading partner of Bangladesh. However, China's trade with Bangladesh has increased diverse in current years to exceed India from 2001 onwards. This relation with China has established by late president Ziaur Rahman after the assassination of President Sheikh Mujibur Rahman. And it comes in a bigger picture from 1991-1996. At that time the government of Bangladesh has taken the look east policy by the leadership of Prime minister Begum Khaleda Zia. After 1996, the first regime of Prime minister Sheikh Hasina shifted from look east policy to strengthen friendship with India. In between policy changes happened for regime-changing in the time of BNP-Jamaat Government from 2001 to 2006. But the major changes took place in a recent year. The Awame league government is giving more importance to have strong economic and political relations with China from 2011. This article inspects the numerous influences that have donated to China's increasing presence in Bangladesh as compared to India's decline with related to trade and investment. India has noticeably lost out to China in many important industries. While studying and evaluating recent developments, the study also presents a strategy to counter India's declining economic influence in Bangladesh.
References
Bangladesh-China economic military and diplomatic relations by Muhammad Hasan, http://internationalaffairsbd.com/bangladesh-china-economic-military-diplomatic-relations/ Accessed on 01 January 2018 )
India-Bangladesh-China Relations: A Complex Triangle by Asma Masood published by Myanmar Business Today, https://www.mmbiztoday.com/articles/india-bangladesh-china-relations-complex-triangle (accessed on 02 February 2018)
Bilateral Relations, Ministry of Foreign Affairs, Republic of China, http://bd2.mofcom.gov.cn/article/bilateralcooperation/inbrief/200411/20041100003924.shtml (accessed on 02 February 2018)
Haroon Habib, 'Bangladesh China Sign Nine Agreements', The Hindu, April 9, 2005, at http://www.hindu.com/2005/04/09/stories/2005040901199160.htm (Accessed May 30, 2008).
Ruksana Kibria, 'Strategic Implication for Bangladesh China Relations', Daily Star, February 19, 2006, at http://www.thedailystar.net/suppliments/2006/15thanniv/ bangladesh&theworld/bd_world12.htm (Accessed December 30, 2006).
Bangladesh, IAEA Work on Nuclear Plants, United Press International Energy Briefing, May 14, 2008, at http://www.upi.com/International_Security/Energy/ Briefing/2008/05/14/bangladesh_iaea_work_on_nuclear_plants/7344/ (Accessed May 14, 2008).
'China Offers Help for Nuclear Power Project', The New Nation, April 26, 2008, at http://nation.ittefaq.com/issues/2008/04/26/news0218.htm (Accessed August 18, 2008).
Tarique Niazi, 'China's March in South Asia', China Brief, 5(9), April 26, 2005, at http://www.jamestown.org/publications_details.php?volume_id=408&issue_id =3311&article_id=2369717 (Accessed May 30, 2005).
'China to Build Strong Ties with Bangladesh: Chinese Vice-FM', New Age, June 23, 2007, at http://www.newagebd.com/2007/jun/23/front.html (Accessed June 24, 2007).
Useful Resources:
Website of Indian High Commission: www.hcidhaka.gov.in
Indian Visa Application Centre, Bangladesh - http://www.ivacbd.com/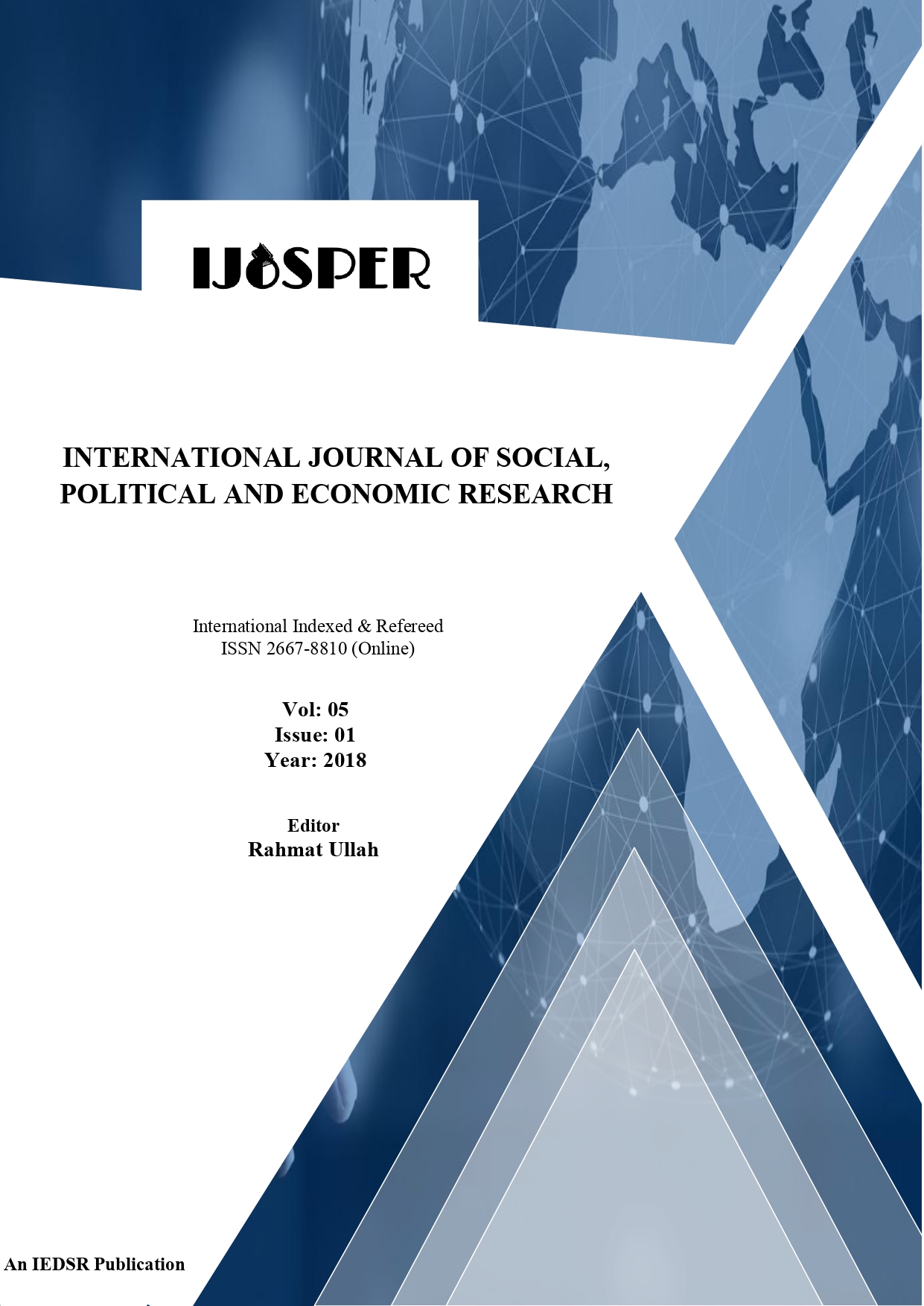 How to Cite
MAHAMUDUL HASSAN. (2018). INDIA'S CONCERN AND POLICY OVER CHINA-BANGLADESH RELATIONS. International Journal of Social, Political and Economic Research, 5(1), 57-71. https://doi.org/10.46291/IJOSPERvol5iss1pp57-71